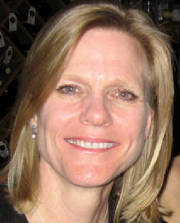 Christine Fontana
Principal and Founder
Christine Fontana, founder of New Approach Coaching & Consulting, coaches leaders within organizations to motivate their teams and strengthen their relationships to foster a results-oriented, collaborative and inspiring workplace. She coaches at many levels within organizations, from the executive level, to directors and managers, to individual contributors and salespeople. Christine also enjoys coaching individuals to develop the authenticity and passion to thrive in their careers, lives and circumstances. She is known for her straightforward approach, compassion, business acumen and the ability to see the humor in almost any situation.
Christine's own experience as a Performance Development Consultant & Coach, as Director of Marketing at the Ghirardelli Chocolate Company and as a Product Manager at The Quaker Oat Company, allows her to easily relate to the challenges inherent in a leadership position. This also gives her firsthand knowledge of the leadership skills which are so necessary in motivating a team within a business environment. In addition to coaching individuals and teams within organizations, Christine facilitates leadership and sales performance workshops.
Christine has worked within a wide variety of industries in the Fortune 500. Whether she is leading a workshop, or coaching a person or team, her client feedback is consistently excellent and focuses on her high energy level and ability to help clients develop and advance toward meeting their goals. She has been consulting and coaching for more than 12 years.
Christine has an MBA in Marketing from Columbia University and a B.S. in Business from the University of Southern California.
Other credentials:
The Coaches Training Institute, graduate, Co-Active Coaching Curriculum

DiSCtm Qualified

Sales Coaching Certification, AchieveGlobal

Master Certification: AchieveGlobal Leadership Curriculum

Master Certification: AchieveGlobal Sales Performance Curriculum

Board Member, Philadelphia Area Coaching Alliance

Field Ambassador: Columbia Business School